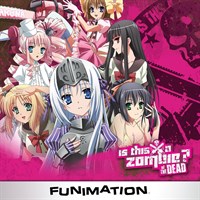 Description
Ayumu was murdered by a serial killer and resurrected as a zombie by a cute little Necromancer. Then he got mixed up with a magical girl and a vampire ninja! With a harem like this, Ayumu could end up even deader before figuring out who killed him!
Episodes
1. Yes, Thank You for This Encore
2. Yes, I'm Now Making a Magical Transformation Again!
4. Yo! That's Some Friendly You-nity!
5. No, Get Lost, Good Sir
6. Yes, It Goes Around Every Year
7. No Way, We Were Winning!
8. Mm-hmm, Teacher Is the Greatest!
9. Whoo, a Mixer with Kyoko!
10. Ah, My Darling Is a Ne'er-do-well
12. Yes, This Suits Me Just Fine
Additional information
Duration
12 episodes (5 h 4 min)