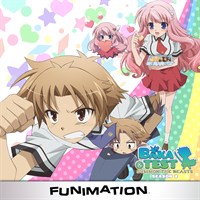 Available on
Xbox One
HoloLens
PC
Mobile device
Xbox 360
Description
Get ready for more outrageous Avatar action with season two of Baka and Test! Akihisa Yoshii is back in action, leading the loveable losers of lowly Class F up against the best and brightest students Fumizuki Academy has to offer!
Episodes
1. Me, Everyone, and Swimming in the Ocean!
2. Me, Yukata, and Festivities!
3. Me, That Girl, and a Stuffed Toy!
4. Me, True Colors and a Man's Dignity!
5. Me, Peeking, and Training Camp!
6. Me, Peeking, and Guys' Friendship!
7. Me, Peeking, and Far Away Paradise!
8. Me, Japan, and Unknown Words!
9. Me, Romance, and Negotiation Skills!
10. Me, Romance, and Love Skills!
11. Yuuji, Shouko, and Childhood Memories!
12. Idiots, Clownery, and Requiem!
13. BAKA and TEST – Summon the Beasts!
Additional information
Duration
13 episodes (5 h 14 min)