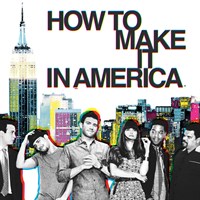 Aspiring designer Ben and his best friend Cam keep pounding the pavement to get their CRISP line of shirts and hoodies off the ground in the wake of (potentially) lucrative trip to Japan in Season 2 of this HBO series.
How to Make It in America
Available on
Xbox One
HoloLens
PC
Mobile device
Xbox 360
Description
Who will you become to get what you want? That's the question facing Ben and Cam in Season 2 of this HBO comedy series that follows the 20-something friends as they continue their pursuit of success in the world of big-time New York City fashion. This season, as they keep working to get their CRISP line of t-shirts and hoodies off the ground following a potentially lucrative trip to Japan, Ben and Cam scour the downtown scene trying to get noticed while rubbing shoulders with Ben's ex Rachel (Lake Bell), an interior decorator now searching for meaning after a long trip, Domingo (Scott 'Kid Cudi' Mescudi), a well-connected street pal with his own "entrepreneurial" business; David 'Kapo' Kaplan (Eddie Kaye Thomas), a hedge-fund manager and high-school pal; and Cam's cousin Rene (Luis Guzman), an ex-con trying to work his get-rich scheme.
Episodes
I'm Good
Season 2, Episode 1 TV-MA CC HD CC SD
Season 2 Premiere. Ben and Cam return from a successful trip to Tokyo full of optimism--and with duffle bags of hoodies for a CRISP pop-up store event. Back from her soul-searching globe-trot, Rachel realizes she still has feelings for Ben, but discovers he's seeing Julie. Rene puts up a head-turning Rasta Monsta billboard that incenses his girlfriend; Domingo expands his business beyond dog-walking.
In or Out
Season 2, Episode 2 TV-MA CC HD CC SD
Ben and Cam find themselves stuck between their new sales rep and a hard place when they have the opportunity to crash a brunch hosted by the well-connected Nancy Frankenburg. On the personal front, Cam is determined to move out of his grandmother's place, and Ben makes an indifferent step toward commitment by giving Julie his spare key. Rene leans on an indebted client to pay up, but not with money; Rachel lands a new job at Biscuit magazine, and lights up with Domingo.
3. Money, Power, Private School
Money, Power, Private School
Season 2, Episode 3 TV-MA CC HD CC SD
Fashion rep Nancy lands CRISP a promising gig, though not for the money or clientele that Ben and Cam had hoped for. Rachel bestows a lavish gift on Ben after learning that he and Julie may be parting ways. Cam goes into the dealing business with Domingo to help raise money for a river-view apartment. Rene shoots a Rasta Monsta viral video with Wilfredo Gomez, and gets closer to his girlfriend Debbie.
4. It's Not Even Like That
It's Not Even Like That
Season 2, Episode 4 TV-MA CC HD CC SD
At an upstate wedding, Ben's platonic friendship with Rachel is tested by nostalgia--and a revelation about the new guy she's been seeing. Meanwhile, Kapo stresses about speaking from the heart in his best-man speech; Cam charms Lulu's dad to secure the perfect location (and an unlikely model) for CRISP's new 'lookbook' photo shoot; Rene seeks to collect on a debt to cover the costs of Rasta Monsta's expanding business (and to buy bling for Debbie).
Mofongo
Season 2, Episode 5 TV-MA CC HD CC SD
After Nancy puts the kibosh on getting CRISP into a large midwestern retailer, Ben and Cam take matters into their own hands to charm its young out-of-town buyers. Rene tries to make amends with Debbie and prove he can be a stable family man; Rachel goes from feeling lost at Biscuit to alive in Bushwick, all in a single day.
I'm Sorry, Who's Yosi
Season 2, Episode 6 TV-MA CC HD CC SD
Ben senses a conflict of interest when Nancy sets CRISP up with a manufacturer named Yosi. Determined to bring some spice to Biscuit, Rachel disregards her boss and pursues an edgy lead. The Feds catch up with Kapo; Lulu warns Cam against selling out; and Rasta Monsta incites the ire of the East Flatbush Caribbean League.
The Friction
Season 2, Episode 7 TV-MA CC HD CC SD
Ben and Cam debate the future of CRISP. Rene hunts down the culprit behind the Rasta Monsta tincture spray, and gives Kapo some advice on how to survive medium security. Rachel commemorates a job setback with 'shrooms and a shvitz.
What's in a Name?
Season 2, Episode 8 TV-MA CC HD CC SD
(Season 2 Finale) Questioning his faith in Nancy and Yosi, Ben tries to find a way to stitch CRISP--and his friendship with Cam--back together. Domingo and Cam try to clear Rasta Monsta's name with the East Flatbush Caribbean League. Rachel seeks out Edie's advice; Kapo has the best prison send-off party ever.
Additional information
Duration
8 episodes (3 h 47 min)
Duration
8 episodes (3 h 47 min)
| | |
| --- | --- |
| Windows | Windows 8, Windows 8.1, Windows 10 or later |
| Xbox | Xbox 360, Xbox One, Xbox One S, Xbox One X |
| Mobile | Windows Phone 8, Windows Phone 8.1, Windows 10 or later |
Portions of content provided by Tivo Corporation - © 2019 Tivo Corporation