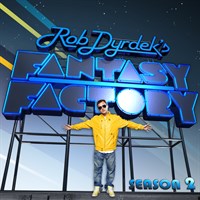 Available on
Xbox One
HoloLens
PC
Mobile device
Xbox 360
Description
The fantasy continues for skateboarding legend Rob Dyrdek and his crew as they return for another quirky season of chaos and laughter at the Fantasy Factory. Packed with guest stars and more action, Season Two is the Fantasy Factory at a whole new level.
Episodes
2. Natural Born Gymkhana-er
3. Trust Your Pilot, Respect Your Monkey
4. Local Celebrity Almost Dies!
5. Best of, Bonus & Behind the Scenes
6. The Dyrdek Family Vacation
8. The Berrics VS. The Fantasy Factory
Additional information
Duration
9 episodes (3 h 6 min)