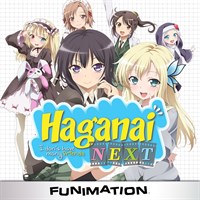 Description
The Neighbors Club returns as Sena, Yozora, and the rest of the misfit members continue to do totally not-weird things in order to make new friends. Stuff like stalking their fellow students, playing inappropriate video games, and creating time machines.
Episodes
3. My Little Sisters Are This Cute
5. That Kind of Play Is Not Allowed.. and.. My Worldview Is Disturbed When You Are Around
6. Unbreakable Strange-Girl
7. He's My Brother, But As Long As There's Love, It Doesn't Matter If He Gets More Sisters, Right?
8. My Childhood Friend Is Too Much of a Battleground
10. The Sad-Case King and the Stone-Cold Story
11. Dismay of I, the Chicken
12. I ______ Many Friends
Additional information
Duration
12 episodes (4 h 53 min)