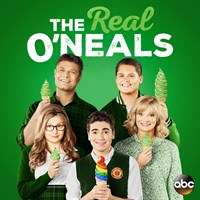 Description
The half-hour comedy returns for a second season, as the O'Neal family continues its journey of self-discovery and growth, resulting from Kenny coming out. Kenny's parents, Eileen and Pat, continue to deal with their pending divorce while still living under the same roof. The O'Neals will continue to explore new relationships, friendships and acceptance of one another in the next, messier chapter of their lives.
Episodes
12. The Real Brother's Keeper
13. The Real Confirmation
15. The Real Mr. Nice Guy
Extra: A Sneak Peek at ABC's Comedy "The Real O'Neals"
Additional information
Duration
16 episodes (5 h 44 min)