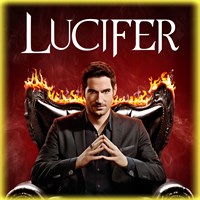 Description
Entering its third season, the story of the original fallen angel continues. As Season Two came to a close, Lucifer took care of a little problem called Mom, aka Charlotte (Tricia Helfer). But now he's facing an even greater challenge – finding out who kidnapped him, and why his angel wings are back. In addition, Tom Welling (Smallville) joins the cast as Marcus Pierce, an accomplished police lieutenant who is everything Lucifer (Tom Ellis) is not – strategic, reserved and well-respected. But perhaps even more annoying are all the things they have in common. Both men are charming, charismatic and handsome as hell. So when Pierce starts developing a connection with Decker (Lauren German), Lucifer's devilish traits are inflamed.
Episodes
1. They're Back, Aren't They?
3. Mr. and Mrs. Mazikeen Smith
4. What Would Lucifer Do?
5. Welcome Back, Charlotte Richards
6. Vegas With Some Radish
15. High School Poppycock
19. Orange is The New Maze
20. The Angel of San Bernadino
21. Anything Pierce Can Do I Can Do Better
23. Quintessential Deckerstar
25. Bonus Episode: Boo Normal
26. Bonus Episode: Once Upon a Time
100. Lucifer Season 3: Trailer
Additional information
Genres
Drama
Sci-Fi/Fantasy
Duration
26 episodes (18 h 17 min)