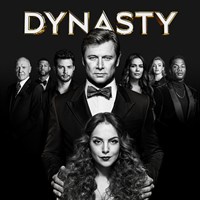 Description
As DYNASTY hurtles into its explosive third season, the Carrington family will face the unknown on all fronts. Dealing with the fallout from the startling second season finale, Fallon (Elizabeth Gillies) is surrounded by a host of rivals looking to destroy her, the most wicked of which is her own brother, Adam (Sam Underwood), who takes the idea of 'sibling rivalry' to a whole new level of crazy.
Episodes
2. Caution Never Won a War
5. Mother? I'm at La Mirage
8. The Sensational Blake Carrington Trial
9. The Caviar, I Trust, Is Not Burned
10. What Sorrows Are You Drowning?
11. A Wound That May Never Heal
13. You See Most Things in Terms of Black & White
14. That Wicked Stepmother
16. Is the Next Surgery on the House?
18. You Make Being A Priest Sound Like Something Bad
20. My Hangover's Arrived
Additional information
Duration
20 episodes (14 h 7 min)