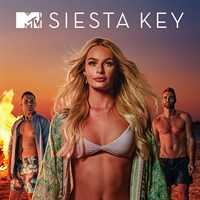 Description
Siesta Key follows an exclusive group of friends as they come of age in the most beautiful beach town in America: the island of Siesta Key, Fla. These young adults will confront issues of love, betrayal, class and adulthood.
Episodes
1. What are your real intentions with Juliette?
4. Are you offended? Because you should be!
5. Why are you with somebody who doesn't deserve you?
6. Are you happy with her?
7. What's really going on with you and Alex?
8. So you're the ex wife?
9. Why don't you just mind your own damn business?
11. What if it goes completely south?
12. Where did you sleep last night?
13. I'm Not Letting Him Get Away With It
14. I'm Not Asking For Any Judgment
15. I'm Ready For A Good Guy
16. I'm Gonna Be Drunk For The Next Week
17. I Just Didn't Think It Was Going To Happen So Fast
19. I Want Him To Have A Girl
20. Can I Talk To You For A Second?
21. I Didn't Even Know That You Were That Into Bathing Suits
23. I'm Actually Like Happy
Additional information
Duration
24 episodes (16 h 51 min)