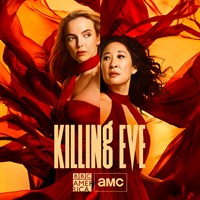 Description
The story of two women with brutal pasts, addicted to each other but now trying desperately to live apart. All seems fine until a shocking and personal death sets them on a collision course yet again.
Episodes
1. Slowly Slowly Catchy Monkey
3. Meetings Have Biscuits
8. Are You Leading or Am I?
101. Killing Eve: Season 3 Trailer
Additional information
Duration
9 episodes (5 h 31 min)