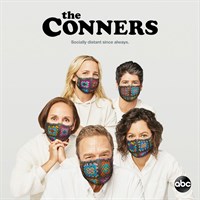 Description
Follow America's favorite family as they face the daily struggles of life in Lanford. Dan, Jackie, Darlene, Becky and D.J. will continue to grapple with parenthood, dating, financial pressures and aging in working-class America. Through it all, the family prevails with love, humor and perseverance.
Episodes
1. Keep On Truckin' Six Feet Apart
2. Halloween and The Election vs. The Pandemic
3. Plastics, Trash Talk & Darlene Antoinette
4. Birthdays, Babies And Emotional Support Chickens
5. Friends in High Places and Horse Surgery
6. Protest, Drug Test and One Leaves the Nest
7. A Cold Mom, A Brother Daddy And A Prison Baby
8. Young Love, Old Lions And Middle-Aged Hyenas
9. Promotions, Podcasts and Magic Tea
10. Who Are Bosses, Boats And Eckhart Tolle?
11. Panic Attacks, Hardware Store and Big Mouth Billy Bass
12. A Stomach Ache, A Heartbreak and a Grave Mistake
13. Walden Pond, A Staycation And The Axis Powers
14. Money, Booze and Lies
15. An Old Dog, New Tricks And A Ticket To Ride
16. A Fast Car, A Sudden Loss, And A Slow Decline
17. Regrets, Rehabs And Realtors
18. Cheating, Revelations And A Box Of Doll Heads
19. Jeoparde, Sobriete, And Infidelite
20. Two Proposals, a Homecoming and a Bear
Additional information
Duration
20 episodes (7 h 11 min)