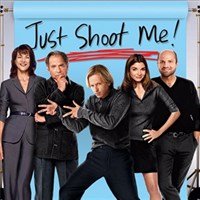 Description
Fashion and mayhem at the offices of Blush magazine, where Maya, (Laura San Giacomo of Sex, Lies, & Videotape and Pretty Woman) works for her father (George Segal) and a host of eccentric and neurotic co-workers. There's Nina (Wendy Malick), a libido-driven ex model, Elliot (Enrico Colantoni), the magazine's photographer and Dennis (David Spade), her father's power hungry assistant.
Episodes
3. What The Teddy Bear Saw
5. Two Girls for Every Boy
8. How Nina Got Her Groove Back
10. How The Finch Stole Christmas
14. A Spy in the House of Me
20. And The Femmy Goes To...
22. Shaking Private Trainer
23. The Odd Couple - Part 1
24. The Odd Couple - Part 2
Additional information
Networks
Sony Pictures Television
Duration
25 episodes (9 h 14 min)