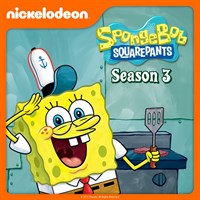 Description
SpongeBob SquarePants chronicles the adventures of a rectangular, yellow sponge that lives under the sea beneath the tropical isle of Bikini Atoll, in the sub-surface city of Bikini Bottom. SpongeBob is incurably optimistic, earnest, and well-meaning. Whether he's flipping Krabby Patties at the Krusty Krab restaurant, or jellyfishing in Jellyfish Fields, SpongeBob faces life with a truly unique approach.
Episodes
1. The Algae's Always Greener/Sponge Guard on Duty
2. Club Spongebob/My Pretty Seahorse
3. The Bully/Just One Bite
4. The Nasty Patty/The Idiot Box
5. Mermaid Man And Barnacle Boy IV/Doing Time
6. The Snowball Effect/One Krab's Trash
7. As Seen on TV / Can You Spare a Dime?
8. No Weenies Allowed/Squilliam Returns
9. Krab Borg/Rock a Bye Bi-Valve
10. Wet Painters/Krusty Crab Training Video
11. Spongebob's Houseparty (Part 1)/SpongeBob's Houseparty (Part 2)
12. Chocolate with Nuts/Mermaid and Barnacle Boy V
13. New Student Starfish/Clams
15. The Great Snail Race/Mid-Life Crustacean
16. Born Again Krabs/I Had an Accident
17. Krabby Land/The Camping Episode
18. Missing Identity/Plankton's Army
19. The Sponge Who Could Fly/Lost Episode Patchy
20. SpongeBob Meets the Strangler/ PRANKS A LOT (aka NAKED PANTS)
Additional information
Age rating
Genres
Animation
Comedy
Family/Children
Duration
20 episodes (8 h 3 min)