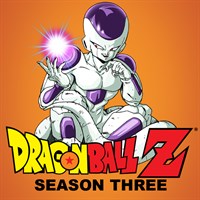 Available on
Xbox One
HoloLens
PC
Mobile device
Xbox 360
Description
Goku - the strongest fighter on the planet - is all that stands between humanity and villains from the darkest corners of space. Joined in battle by the Z-Fighters, Goku travels to distant realms in search of the magic powers of the seven Dragon Balls!
Episodes
4. Fighting Power: One Million??
6. Piccolo the Super-Namek
8. Frieza's Second Transformation
9. Another Transformation?
14. Clash of the Super Powers
19. Keep the Chance Alive
25. Approaching Destruction
28. Duel on a Vanishing Planet
32. Namek's Explosion…Goku's End?
Additional information
Duration
33 episodes (13 h 37 min)