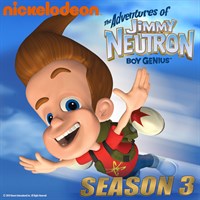 Description
Blast off on adventure as Jimmy and pals play an intergalactic game show, the Nanobots and evil Jimmy clone return, Libby becomes a gossip reporter, and Jimmy gets framed for robbery! And there's lots more action in this thrill-packed collection!
Episodes
3. Lights! Camera! Danger!
4. Clash of the Cousins/Who's Your Mommy
7. The Incredible Shrinking Town
8. Crouching Jimmy, Hidden Sheen
9. One of Us/Vanishing Act
11. The Evil Beneath/Carl Wheezer, Boy Genius
13. Who Framed Jimmy?/Flippy
15. Best In Show/El Magnifico
16. My Big Fat Spy Wedding
17. How to Sink a Sub/Lady Sings the News
18. Jimmy / Timmy 3: The Jerkinators!
19. Jimmy / Timmy Power Hour 2: When Nerds Collide
21. The League of Villians
Additional information
Duration
21 episodes (10 h 13 min)