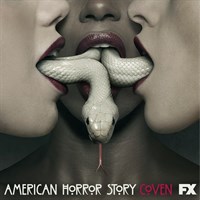 Description
After 300 years of witches living in secrecy, mysterious attacks have both threatened their survival and forced "gifted" girls to attend a school in New Orleans for protection. Wrapped in the turmoil is new arrival, Zoe, who harbors her own terrifying secret. Alarmed by the recent aggression, Fiona, the Supreme, is determined to protect the Coven at any cost.
Episodes
3. Coven: The Replacements
4. Coven: Fearful Pranks Ensue
5. Coven: Burn, Witch. Burn!
6. Coven: The Axeman Cometh
8. Coven: The Sacred Taking
10. Coven: The Magical Delights of Stevie Nicks
11. Coven: Protect the Coven
13. Coven: The Seven Wonders
Extra: World Premiere: American Horror Story: Coven
Additional information
Duration
13 episodes (9 h 46 min)