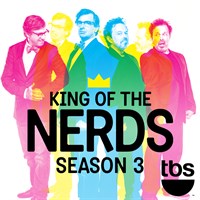 Description
Twelve new competitors are ready to take the field of nerd battle in season three of King of the Nerds. Contestants will face new challenges that will test their intellect, ingenuity, skills and pop-culture prowess for the chance to win $100,000 and be crowned the ultimate nerd. Guest stars include Danica McKellar, Penn Jillette and more.
Episodes
2. And Now for Something Different
4. Did They Choose Wisely...or Poorly?
7. Invasion of the Nerd Snatchers
Additional information
Duration
8 episodes (5 h 33 min)