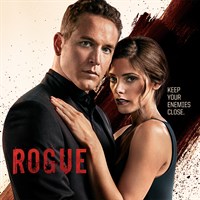 Description
In ROGUE season 3 a corrupt general sends Ethan Kelly to Chicago to infiltrate the firm of one of the city's most notorious attorneys and power brokers, Marty Abrams (Schiff). It soon becomes apparent that Marty's dealings extend from the boardroom into the dangerous world of one of Chicago's most feared gangs. Meanwhile, Ethan meets Marlon Dinard (Luke), a respectable owner of a high-end chandelier store. Ethan, however, begins to question if there's more to Marlon than meets the eye. Tasked to find the truth, Ethan tracks him and his half-sister Talia (Lawson), who winds up attracting even more unwanted attention toward Marlon. When a reporter on the brink of discovering the depths of Marty's empire winds up dead, Federal Agent Harper Deakins (Carter) is assigned to investigate his death. Grace Travis, convinced that Ethan holds the key to her survival, once again goes rogue and heads to Chicago. She and Ethan work together to bring down the people who murdered her son and have Ethan under their thumb. These seemingly separate cases interconnect and ultimately reveal a powerful conspiracy that connects the white-collar boardrooms to the gangs of Chicago.
Additional information
Networks
Entertainment One U.S.
Duration
20 episodes (17 h 16 min)