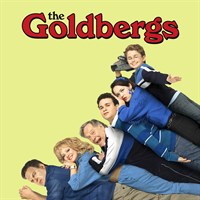 Description
Before there were parenting blogs, trophies for showing up and peanut allergies, there was a simpler time called the '80s. For geeky 11-year-old Adam (Sean Giambrone), these were his wonder years, and he faced them armed with a video camera to capture all the crazy. The Goldbergs are a loving family like any other -- just with a lot more yelling.
Episodes
1. A Kick-Ass Risky Business Party
4. I Caddyshacked the Pool
8. In Conclusion, Thanksgiving
16. Edward 'Eddie The Eagle' Edwards
17. The Dirty Dancing Dance
20. Dungeons and Dragons, Anyone?
22. The Goldbergs: An 80's Rewind
Extra: Goldbergs Goofs and Gags!
Extra: A Look to Season 3
Additional information
Duration
25 episodes (9 h)