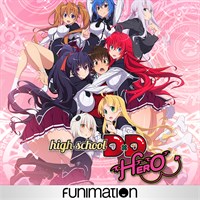 Description
Issei is suddenly attacked in Kyoto by a mysterious fox yokai—whose mother is missing—and it looks like the Chaos Brigade is behind it! Only the Grabbing Dragon and his voluptuous vixens are prepared to face them and get the fox yokai's mother back.
Episodes
1. Holiness Behind the Gym
2. That's Right, Let's Go to Kyoto
3. School Trip, an Abrupt Attack
5. Showdown! Gremory Family vs. Hero Faction in Kyoto
6. My Potential Released!
7. The School Trip is in Pandemonium
8. We are Preparing for the School Festival!
9. A Girl's Heart is Complicated
10. The Deciding Battle of the Strongest Youth, Begins!
11. As a Family Member of Rias Gremory
13. Lion Heart of the School Festival
Additional information
Networks
Crunchyroll, LLC
Duration
13 episodes (5 h 10 min)