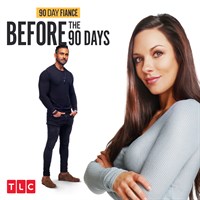 Description
From made in heaven to majorly mismatched, 90 Day Fiance: Before the 90 Days presents the most diverse collection of couples yet, including the franchises first same-sex relationship.
Episodes
8. Stranger in a Strange Land
9. Should've Known Better
12. King of Wishful Thinking
13. The Pleasure Principle
15. The NeverEnding Story
101. The Couples Tell More!
Additional information
Duration
18 episodes (1 day 1 h 26 min)