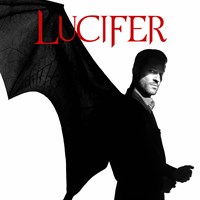 Description
Entering its fourth season, the story of the original fallen angel continues, with the charming, charismatic and devilishly handsome Lord of Hell, Lucifer Morningstar (series star TOM ELLIS), helping LAPD detective Chloe Decker (series star LAUREN GERMAN) take down criminals. Reeling from the aftermath of Chloe seeing his devil face in the season three finale, Lucifer faces a new challenge: Eve (new series star INBAR LAVI), the original sinner herself, is back. Does she want revenge for when he tempted her out of Eden oh so many years ago? Or something else entirely?
Episodes
2. Somebody's Been Reading Dante's Inferno
3. O, Ye of Little Faith, Father
7. Devil Is As Devil Does
10. Who's Da New King of Hell?
Additional information
Genres
Drama
Sci-Fi/Fantasy
Duration
10 episodes (8 h 19 min)