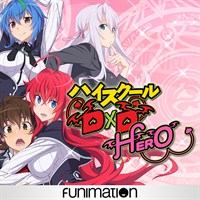 Description
The babes and boys of the Occult Research Club are back! Lovable loser (and bust buff) Issei and his clan of bewitching beauties return for a new season of supernatural tussles and sexy shenanigans!
Episodes
1. Holiness Behind the Gym
2. That's Right, Let's Go to Kyoto
3. School Trip, an Abrupt Attack
5. Showdown! Gremory Family vs. Hero Faction in Kyoto
6. My Potential Released!
7. The School Trip is in Pandemonium
8. We are Preparing for the School Festival!
9. A Girl's Heart is Complicated
10. The Deciding Battle of the Strongest Youth, Begins!
11. As a Family Member of Rias Gremory
13. Lion Heart of the School Festival
Additional information
Networks
Crunchyroll, LLC
Age rating
Genres
Action/Adventure
Animation
Anime
Comedy
Duration
13 episodes (5 h 10 min)