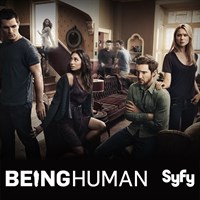 Description
This season on Being Human, Sally struggles to contain her newly acquired powers and break free of Donna's hold on her, while also seeking out the truth behind a murder mystery that haunts her when her powers are used. Josh and Nora try to make their marriage work now that he's a full time wolf, but challenges interfere along with a new pack of werewolves that could threaten everything they know about what it means to be a wolf. Aidan struggles with his desire to find humanity while people from his past begin to collide with the life he lives now, forcing him to choose once and for all between hanging on to his humanity and accepting his role as a ruthless monster.
Episodes
2. That Time of the Month
5. Pack It Up, Pack It In
9. Too Far, Fast-Forward!
10. Oh Don't You Die For Me
13. There Goes the Neighborhood Part III
Additional information
Duration
13 episodes (9 h 17 min)