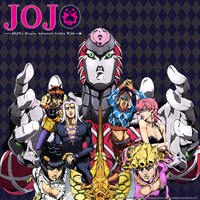 Description
Darkness dwells within the splendor of Venice, but there is also light! The band of young, quick-thinking mafiosi with hearts of gold has made an impossible choice--to betray the famiglia's boss! Armed with guts and unflinching loyalty to each other, they set out to decode the hellish mystery of Diavolo.
Episodes
1. The Mystery of Emperor Crimson
3. Crush and Talking Mouth
6. A Little Story From the Past ~My Name Is Doppio~
7. Emperor Crimson vs. Metallic
8. Under a Sky That Could Come Falling at Any Moment
9. Get to the Collessium in Rome!
10. Green Tea and Sanctuary Part 1
11. Green Tea and Sanctuary Part 2
12. Green Tea and Sanctuary Part 3
14. The Requiem Quietly Plays, Part 1
15. The Requiem Quietly Plays, Part 2
Additional information
Age rating
Genres
Action/Adventure
Animation
Duration
19 episodes (7 h 32 min)