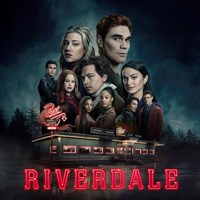 Description
Season five of RIVERDALE begins with our characters' final days as students at Riverdale High. From an epic Senior Prom to a bittersweet graduation, there are a lot of emotional moments and goodbyes yet to come. Then, we will redock with our gang as young adults, all returning to Riverdale to escape their troubled pasts.
Episodes
1. Chapter Seventy-Seven: "Climax"
2. Chapter Seventy-Eight: "The Preppy Murders"
3. Chapter Seventy-Nine: "Graduation"
4. Chapter Eighty: "Purgatorio"
5. Chapter Eighty-One: "The Homecoming"
6. Chapter Eighty-Two: "Back to School"
7. Chapter Eighty-Three: "Fire in the Sky"
8. Chapter Eighty-Four: "Lock and Key"
9. Chapter Eighty-Five: "Destroyer"
10. Chapter Eighty-Six: "The Pincushion Man"
101. Riverdale: Season 5 Trailer
Additional information
Duration
11 episodes (7 h 3 min)