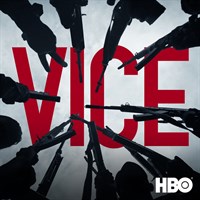 Available on
Xbox One
HoloLens
PC
Mobile device
Xbox 360
Description
Winner of the 2014 Emmy(R) for Outstanding Informational Series or Special, 'VICE' presents its fifth season, with 30 riveting editions hosted by Shane Smith: co-founder of the taboo-breaking multimedia company VICE. Each show features some of the most compelling, important news stories that go unreported by mainstream media outlets--but not by VICE and its intrepid team of correspondents, who deliver hard-hitting stories from around the world.
Episodes
1. Assad's Syria/Cost of Climate Change
3. When the Earth Melts/The Displaced
4. Kings of Cannabis/Into the Darkness
5. Black and Blue/Our Bionic Future
7. Life Under Sharia/Plastic Oceans
8. Fast Food of Arabia/Nollywood
9. Medical Detente/Bananas!
11. Engineering Imortality
12. Women Behind Bars/The Business of Making Art
13. Taking Back Iraq/Lost Generation
14. Last Line of Defense/El Rostro
15. Cyber Supremacy/Japan Rising
16. The Politics of Terror/End of the EU?
17. Future of Firearms/Russia 'Wins' Climate Change
18. Power to the President
19. Crude Reality/Between Oil and Water
20. Autism Under the Lens
21. Show of Force/Return to Somalia
22. Controlling the Narrative/Power to Congo
24. Dirty Oil/Rebuilding Our Reefs
25. Dark Web/Future of Appalachia
26. Divide and Conquer/Crackdown in Honduras
27. Russian Hacking & Contagion
28. Post-Truth News/Microbiome
29. After ISIS/Cubs of the Caliphate
Extra: VICE, Season 5 Trailer
Additional information
Duration
29 episodes (14 h 40 min)