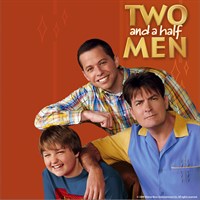 Description
The Emmy®-winning laughfest continues with another sensational season as television's leading comedy. With Jake (Angus T. Jones) now entering junior high school, his dad, Alan (Jon Cryer), reliving his high school dating history and Charlie (Charlie Sheen) finally maturing a little himself, will there be room for three men in Charlie's Malibu beach pad? In addition to all the usual domestic comedy chaos, the fifth season features a lavish wedding between Evelyn (Holland Taylor) and her mysterious fiancé (Robert Wagner), a murder, a crossover "CSI" episode and the series landmark 100th episode featuring the return of Charlie's longtime stalker/soulmate Rose (Melanie Lynskey). With guest stars that also include ER's Ming-Na Wen, Jenny McCarthy and more, you won't want to miss a single episode from this hilarious fun-filled season.
Episodes
1. Large Birds, Spiders and Mom
2. Media Room Slash Dungeon
3. Dum Diddy Dum Diddy Doo
5. Putting Swim Fins on a Cat
6. Help Daddy Find His Toenail
7. Our Leather Gear Is in the Guest Room
8. Is There a Mrs. Waffles?
10. Kinda Like Necrophilia
11. Meander to Your Dander
12. A Little Clammy and None Too Fresh
15. Rough Night in Hump Junction
16. Look at Me, Mommy, I'm Pretty
18. If My Hole Could Talk
19. Waiting for the Right Snapper
Additional information
Duration
19 episodes (6 h 48 min)