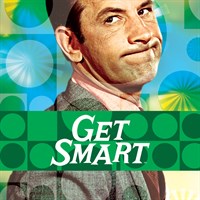 Description
In the fifth and final season of the classic TV series, CONTROL agent Maxwell Smart fights a plague of murderous bananas, thwarts a plot to freeze earth with a giant fan and battles KAOS agents in a race to deploy the AAAMM (the Anti-Anti-Anti-Missile Missile, of course). Guest stars include such notables as Vincent Price, Martin Landau and Phyllis Diller.
Episodes
5. The Treasure of C. Errol Madre
7. And Baby Makes Four: Part 1
8. And Baby Makes Four: Part 2
12. Is This Trip Necessary?
13. Ice Station Siegfried
14. Moonlighting Becomes You
17. Rebecca of Funny-Folk Farm
18. The Mess of Adrian Listenger
19. Witness for the Execution
20. How Green Was My Valet
21. And Only Two Ninety-Nine
23. What's It All About, Algie?
24. Hello, Columbus - Goodbye, America
26. I Am Curiously Yellow
Additional information
Duration
26 episodes (10 h 30 min)