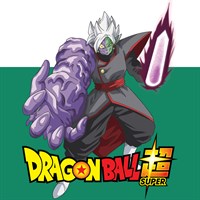 Available on
Xbox One
HoloLens
PC
Mobile device
Xbox 360
Description
Goku and his friends are back and finally have time to live normal lives. But when a new, powerful being shows up, their peaceful home is threatened again. Can they defeat Beerus, the God of Destruction? And what of this Super Saiyan God he seeks?
Episodes
1. The Climactic Battle! The Miraculous Power of a Relentless Warrior!
2. With New Hope!! In Our Hearts- Farewell, Trunks
3. Come Forth, Shenron! Whose Wish Will be Granted?!
4. Goku Vs Arale! A Ridiculous Battle Will End The Earth?!
5. Champa's Challenge! This Time We Fight With Baseball!
6. The Death of Goku! The Guaranteed Assassination Mission
7. Will There Be A Counterattack?! The Invisible Killing Strike!!
8. Gohan's Misfortune! An Unexpected Great Saiyaman Movie?!
9. For the Ones He Loves! The Unbeatable Great Saiyaman!!
10. Goku and Krillin Back to the Old Training Grounds
11. Defeat These Terrifying Enemies! Krillin's Fighting Spirit Returns!
12. Let's Do It, Zen-Oh Sama! The All-Universe Martial Arts Tournament!!
13. The Gods of Every Universe In Shock?! Losers Erased In The Tournament Of Power
Additional information
Age rating
Genres
Action/Adventure
Anime
Duration
13 episodes (5 h 5 min)