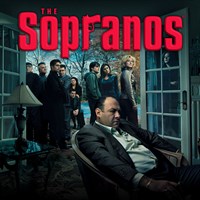 Description
Business is booming, but for New Jersey mob boss Tony Soprano (James Gandolfini), life continues to grow more complicated and dangerous in the 6th and final season of the hit HBO series. Throughout all 21 episodes of this explosive climactic season, Tony deals with mounting problems both at home and at work. Beginning with a near-death experience, Tony must keep troubles within his own crew from bubbling over while the always-tense relations between the New Jersey and New York families threaten to explode. Then there are the inevitable power struggles that ensue when certain family members are eliminated, by natural and other causes. By the end, Tony finds himself doubting the allegiances of some of those closest to him at work...even as his wife and children make choices that promise to change the face of the Sopranos' domestic life.
Episodes
4. The Fleshy Part of the Thigh
5. Mr. & Mrs. John Sacrimoni Request...
Additional information
Duration
21 episodes (19 h 8 min)