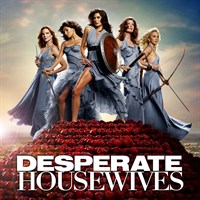 Available on
Xbox One
HoloLens
PC
Mobile device
Xbox 360
Description
The good, the bad, the sexy and the dangerous prove once again that it's not hard to find sin in the suburbs. Picking up from season five's cliffhanger, the answers to all the burning questions will redefine their lives. Will Bree give in to her desire for an extra-martial affair? Can Lynette come to terms with her surprise pregnancy? How will Gaby deal with a rebellious new family member? But the biggest question of all still looms… did Susan or Katherine marry Mike and who's left betrayed? Only one thing is for sure: these wives are armed and ready for whatever comes their way.
Episodes
1. Nice Is Different Than Good
3. Never Judge a Lady by Her Lover
4. The God-Why-Don't-You-Love-Me Blues
5. Everybody Ought to Have a Maid
6. Don't Walk on the Grass
7. Careful the Things You Say
9. Would I Think of Suicide?
12. You Gotta Get a Gimmick
13. How About A Friendly Shrink?
19. We All Deserve to Die
23. I Guess This Is Goodbye
Additional information
Duration
23 episodes (16 h 39 min)