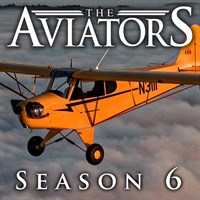 Available on
Xbox One
HoloLens
PC
Mobile device
Xbox 360
Description
"The Aviators" is an award-winning weekly TV series featuring interesting people, the latest aircraft, the coolest technology and the best fly-in destinations. It's action, intensity, and adrenalin mixed with education, entertainment, and beauty. The Aviators is for everyone who has ever gazed skyward.
Episodes
1. A Pilot Without Arms/Aircraft Profile: The Pitts Special
2. L39 and Upset Recovery
3. Flying Again/Aircraft Profile: The Aviat Husky
5. Anatomy of a Journey: Ground Control
7. Aircraft Profile: The Eclipse 550/Should You Turn Back to the Airport?
8. It's the Franken-Glider!
9. Skytyping/Personal Jet
Additional information
Networks
FourPoints Television Productions
Age rating
Genres
Documentary/Bio
Educational
Duration
10 episodes (4 h 14 min)