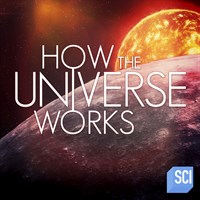 Available on
Xbox One
HoloLens
PC
Mobile device
Xbox 360
Description
From the beginning of time, Stars, Galaxies, Planets, Solar Systems, and more have been working individually and together to produce all that is and all that we see. Take a deeper look at how the cosmos is designed, built, and actually works on How The Universe Works.
Episodes
1. Nightmares of Neutron Stars
2. When Supernovas Strike
3. The Interstellar Mysteries
4. How Black Holes Made Us
5. Secret World of Nebulas
6. Did the Big Bang Really Happen?
7. Battle of the Dark Universe
10. Cassini's Final Secrets
Additional information
Age rating
Genres
Documentary/Bio
Educational
Family/Children
Duration
10 episodes (7 h)