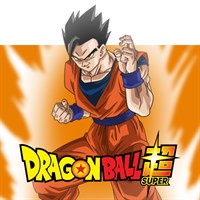 Available on
Xbox One
HoloLens
PC
Mobile device
Xbox 360
Description
Goku and his friends are back and finally have time to live normal lives. But when a new, powerful being shows up, their peaceful home is threatened again. Can they defeat Beerus, the God of Destruction? And what of this Super Saiyan God he seeks?
Episodes
1. The 9th Universe's Kicking Basil vs. the 7th Universe's Majin Buu!!
2. Awaken Your Dormant Fighting Spirit! Gohan's Fight!!
3. Bergamo the Crusher vs. Goku! Whose Strength Reaches the Wild Blue Yonder?!
4. Goku Must Pay! The Warrior of Justice Top Barges In!!
5. Field the All-7th-Universe Team! Who Are the Mighty Ten?!
6. Goku the Talent Scout – Recruit Krillin and Android 18
7. The Universes Go into Action – Each with Their Own Motives
8. First Time Exchanging Blows! Android 17 vs. Goku!!
9. Hunt the Poaching Ring! Goku and Android 17's Joint Struggle!!
10. Gohan and Piccolo – Master and Pupil Clash in Max Training!
11. A Mysterious Beauty Appears! The Enigma of the Tien Shin-Style Dojo?!
12. Staring Down the Wall to Be Overcome! Goku vs. Gohan
13. Which Universe Will Win Their Place?! The Mighty Warriors Gradually Assemble!!
Additional information
Age rating
Genres
Action/Adventure
Anime
Duration
13 episodes (5 h 5 min)