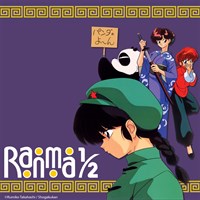 Description
Ranma is challenged by Ryoga to fight yet again, but this time he is completely defeated by Ryoga's new technique, the "Lion's-Roar Blast." It is said that the more miserable the user, the stronger the technique becomes—does Ranma have a chance against the tragic Ryoga?! Then, Ranma must master martial arts cheerleading, but in order to win, he is going to have to cheer for Upperclassman Kuno! Finally, Ranma's mother at last comes to the Tendo Dojo, but why is Genma doing everything he can to stop Ranma from meeting her? Akane feels sorry for Ranma, who barely remembers his own mother, and forms a plan to bring them together.
Episodes
2. Pick-a-Peck o' Happosai
3. From the Depths of Despair, Part I
4. From the Depths of Despair, Part II
6. Run Away with Me, Ranma
7. Let's Go to the Mushroom Temple
9. Madam St. Paul's Cry for Help
10. Meet You in the Milky Way
11. Wretched Rice Cakes of Love
12. The Horrible Happo-Mold Burst!
13. The Kuno Sibling Scandal!
14. Battle for the Golden Tea Set!
15. Gosunkugi's Summer Affair!
16. Bring It On! Love as a Cheerleader, Part I
17. Bring It On! Love as a Cheerleader, Part II
18. The Battle for Miss Beachside
19. The Musical Instruments of Destruction
20. A Ninja's Dog Is Black and White
21. The Tendo Dragon Legend
22. Boy Meets Mom, Part I
23. Boy Meets Mom, Part II: Someday, Somehow…
Additional information
Duration
23 episodes (9 h)