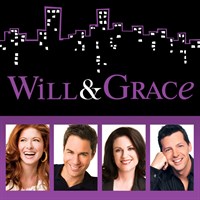 Description
The final season of Will And Grace is here! But dry your eyes and turn off the Gloria Gaynor as there's still bucket loads of laughs to enjoy before your favourite foursome ride off into the sunset. From Will's gay penguin crusade to Jack's soaring career on "Out TV" and Grace's "arranged" marriage to Karen's shady slums-landlord, this final set of wacky adventures is the funniest yet.
Episodes
1. Alive and Schticking (Live)
3. The Old Man and the Sea
6. Love Is in the Airplane
7. Birds of a Feather Boa
9. A Little Christmas Queer
11. Bathroom Humor (Live)
15. The Definition of Marriage
22. Whatever Happened to Baby Gin?
Additional information
Duration
24 episodes (8 h 37 min)