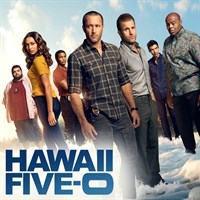 Available on
Xbox One
HoloLens
PC
Mobile device
Xbox 360
Description
McGarrett (Alex O'Loughlin), Danno (Scott Caan) and the Five-0 task force continue to wipe out the crime that washes up on the islands' sun-drenched beaches, and this year are joined by new and old friends to help in their mission. Whether dealing with an infamous pyromaniac loose in the jungle, a devious black-hat hacker, stopping the dangerous Yakuza crime syndicate or planning to open a very bro-mantic restaurant, Five-0 continues to protect their loved ones, Hawaii's citizens and visitors to the 50th state.
Episodes
1. A'ole e 'ōlelo mai ana ke ahi ua ana ia
3. Kāu pahi, ko'u kua. Kāu pū, ko'u po'o
4. E uhi wale no 'a'ole e nalo, he imu puhi
5. Kama'oma'o, ka 'aina huli hana
6. Mohala i ka wai ka maka o ka pua
7. Kau ka 'ōnohi ali'i i luna
8. He Kaha Lu'u Ke Ala, Mai Ho'okolo Aku
10. I ka wā ma mua, I ka wā ma hope
11. Oni kalalea ke kū a ka lā'au loa
13. O ka mea ua hala, ua hala ia
14. Nā keiki a Kalaihaohia
16. O nā hōkū o ka lani wale no kai 'ike i kahi o Pae
17. Hōlapu ke ahi, koe iho ka lehu
19. Aohe mea make i ka hewa; make no i ka mihi ole
20. He lokomaika'i ka manu o Kaiona
22. Kōpī wale nō i ka i'a a 'eu nō ka ilo
23. Ka Hana a ka makua, o ka hana no ia a keiki
24. Ka lālā kaukonakona haki 'ole I ka pā a ka makani Kona.
Additional information
Duration
25 episodes (17 h 57 min)