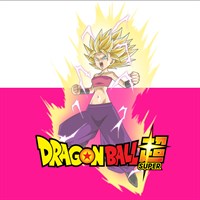 Available on
Xbox One
HoloLens
PC
Mobile device
Xbox 360
Description
The stage is set, and the Tournament of Power finally starts! Can the Z Fighters last against an onslaught of targeted aggression, or will personal grudges mark the beginning of the end?!
Episodes
1. Emergency Development! The Incomplete Ten Members!!
2. You're The Tenth Warrior! Goku Goes To See Frieza!!
3. The Emperor of Evil Returns! A Reception of Mysterious Assassins?!
4. The Worst! The Most Evil! Frieza's Rampage!!
5. The Time Is Here! To The World Of Void For The Fate Of The Universe!!
6. Survive! The Tournament Of Power Begins At Last!!
7. Oh, Uncertainty! A Universe Despairs!!
8. Show Them! Krillin's True Power!!
9. Out Of Control! The Savage Berserker Awakens!!
10. The Impending Warriors of Justice! The Pride Troopers!!
11. The Power of Love Explodes?! Universe 2's Little Witch Warriors!!
12. Gohan, Show No Mercy! Showdown With Universe 10!!
13. The Ultimate High Speed Battle Begins! Goku and Hit Join Forces!!
Additional information
Age rating
Genres
Action/Adventure
Anime
Duration
13 episodes (5 h 4 min)