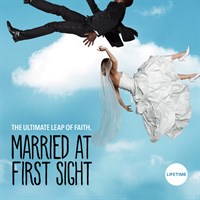 Description
Married at First Sight" is an extreme social experiment following six brave souls who are yearning for a life-long partnership as they agree to a provocative proposal: getting legally married the moment they first meet.
Episodes
1. Married at First Sight: Looking for Love
2. First Comes Marriage, Then Comes Love Pt. 1 & 2
3. Married at Second Sight
7. Let's Talk About Sex, Baby
9. The Past and The Furious
10. One Month Down, Forever to Go?
13. You Give Love a Bad Name
15. The End or The Beginning
Additional information
Duration
16 episodes (13 h 23 min)