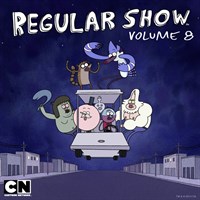 Available on
Xbox One
HoloLens
PC
Mobile device
Xbox 360
Description
Mordecai and the Rigbys are back together for an epic battle of the bands! Mordecai gets roped into baby-sitting Death's kid, Rigby gets called out on being a big ol' liar, and we finally learn the true story behind Skips' immortality! Just a bunch of regular stuff, you know, babysitting, living forever. Super regular.
Episodes
1. Journey to the Bottom of the Crash Pit / Saving Time
3. Guitar of Rock / Return of Mordecai and the Rigbys
4. Bad Portrait / Video 101
5. I Like You Hi / Play Date
6. Expert or Liar / Catching the Wave
7. Gold Watch / Paint Job
8. Take the Cake / Skips in the Saddle
9. Thomas Fights Back / Bachelor Party! Zingo!
10. Tent Trouble / Real Date
Additional information
Duration
10 episodes (3 h 46 min)