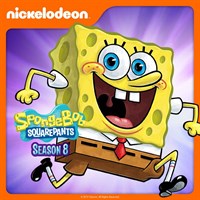 Description
Dive in to Season 8 of SpongeBob SquarePants! Join SpongeBob and pals on vacation, trick-or-treat your way through Bikini Bottom, enjoy an encore visit from Bubble Buddy, check out the Krusty Krab's new drive-thru, and oceans more!
Episodes
1. A friendly Game/Sentimental Sponge
3. Accidents Will Happen/The Other Patty
4. Drive Thru/The Hot Shot
5. Sweet and Sour Squidward/The Googly Artiste
6. Barnacle Face/Pet Sitter Pat
7. Mermaidman Begins/Plankton's Good Eye
8. House Sittin' for Sandy/Smoothe Jazz at Bikini Bottom
10. Patrick's Staycation/Walking the Plankton
11. Mooncation/Mr. Krabs Takes A Vacation
12. Spongebob's Family Vacation
13. The Way of the Sponge/Bubble Trouble
14. The Krabby Patty That Ate Bikini Bottom/Bubble Buddy Returns
15. Are You Happy Now?/Planet of the Jellyfish
16. Restraining SpongeBob/Fiasco!
17. Free Samples/Home Sweet Rubble
18. Treats! / For Here or to Go
19. Karen 2.0 / InSpongeiac
20. Face Freeze!/Glove World R.I.P.
21. Squiditis/Demolition Doofus
22. Squidward's School for Grown Ups / Oral Report
24. Super Evil Aquatic Villian Team Up Is Go!/Chum Fricassee
25. The Good Krabby Name/Move It or Lose It
Additional information
Age rating
Genres
Animation
Comedy
Family/Children
Duration
25 episodes (9 h 50 min)