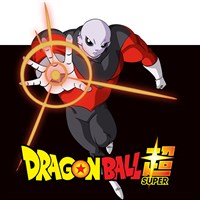 Description
The Tournament of Power rages on. The 2nd Universe's warriors of love are out for blood, Frieza makes his move, and Goku's attention turns to Jiren. But when Goku's stamina starts to dwindle, can Instinct save him?
Episodes
1. A Desperate Battle! Master Roshi's Sacrifice!!
2. Find Them Out! Deathmatch with a Furtive Attacker!!
3. Revenge "F!" A Cunning Trap Is Set?!
4. Frieza and Frost! A Mutual Malevolence?!
5. The Mightiest Enemy Zeroes In on Goku! Launch the Knockout Spirit Bomb Now!
6. Goku Enkindled! The Awakened One's New Ultra Instinct!!
7. An Extra-Dimensional Ultimate Battle! Hit vs. Jiren!!
8. A Saiyan Oath! Vegeta's Resolve!!
9. With Great Joy! The Fighting Freak Saiyans' Battle Rejoined!!
10. Bloodcurdling! The Explosive Birth of a New Super Warrior!!
11. Goku vs. Kefla! Super Saiyan Blue Beaten?!
12. Signs of a Turnabout! The Autonomous Ultra Instinct Erupts!!
13. Showdown of Love! The Artificial Humans vs. the 2nd Universe!!
Additional information
Age rating
Genres
Action/Adventure
Anime
Duration
13 episodes (5 h 1 min)