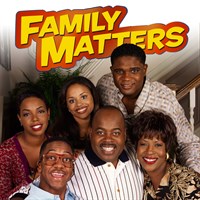 Available on
Xbox One
HoloLens
PC
Mobile device
Xbox 360
Description
Family-friendly comedy Family Matters enters its ninth and final season with more funny and memorable moments for fans. In a tour de force for series star Jaleel White, he'll portray multiple characters, including Steve Urkel, his Southern-belle cousin Myrtle, his gangsta cousin O.G.D. and his suave alter-ego, Stefan. Plus, wedding bells will chime for Laura this season, but with proposals from both Steve and Stefan, which one will she accept? And Eddie finally figures out what he wants to be in life — a cop, just like his dad. Humor and heart go hand in hand in the final season of this hilarious series. Guest stars include Pat Morita (The Karate Kid) and Kristoff St. John (The Young and the Restless), as well as lawyer Johnnie Cochran and Grammy-winning artist Missy Elliott, who performs her hit song "Sock It 2 Me." Note to viewers: Judyann Elder replaces JoMarie Payton as Harriette Winslow for the last several episodes.
Episodes
2. They Shoot Ducks, Don't They?
3. Dumb Belle Of The Ball
5. Who's Afraid Of The Big Black Book?
6. A Mind Is a Terrible Thing to Read
7. Stevil II: This Time He's Not Alone
10. Original Gangsta Dawg
13. Breaking Up Is Hard To Do
16. Whose Man Is It Anyway?
18. Throw Steve from the Train
20. Pop Goes The Question
21. Lost In Space, Part One
22. Lost In Space, Part Two
Additional information
Genres
Comedy
Family/Children
Duration
22 episodes (8 h 26 min)