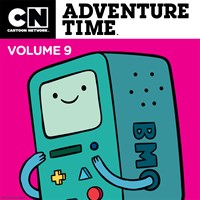 Available on
Xbox One
HoloLens
PC
Mobile device
Xbox 360
Description
Submerge with Finn and Jake on a search for Ooo's most powerful aquatic mammal. Saddle up and ride the open range with BMO in an epic, Western adventure. Tunnel beneath Ooo's surface with Marceline and Princess Bubblegum as they battle toothy, underground critters. Adventure is everywhere in Volume 9!
Episodes
1. Bonnie & Neddy / Varmints
2. Cherry Cream Soda / Mama Said
3. The More You Moe, The Moe You Know
4. Football / Summer Showers
5. Angel Face / President Porpoise is Missing
6. Bad Jubies / Blank Eyed Girl
7. A King's Ransom / Scamps
8. Crossover / Hall of Egress
9. Flute Spell / The Thin Yellow Line
10. Broke His Crown / Don't Look
Extra: Good Jubies: The Making of "Bad Jubies"
Additional information
Duration
10 episodes (3 h 45 min)