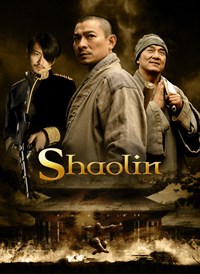 Tomatometer®
Audience
Dallas Morning News

9/9/2011 by Gary Dowell

An ambitious, almost epic drama that devotes as much time to introspection as it does to combat.

New York Times

9/9/2011 by Rachel Saltz

"Shaolin" fits in the more somber kung-fu tradition. But it also finds room for the genre's comic strain.

New York Daily News

9/9/2011 by Joe Neumaier

The epic feel to this Hong Kong action-drama helps balance a lack of hand-to-hand combat scenes.

New York Post

9/9/2011 by V.A. Musetto

More action, less talk should be the order of the day, but it isn't.

NPR

9/8/2011 by Mark Jenkins

Shaolin features a half-dozen impressive action set pieces, including an elaborate carriage chase and a battle inside the cages where Cao imprisons his workers.

Los Angeles Times

9/8/2011 by Betsy Sharkey

The kung fu itself is great fun to watch, from the discipline of balancing on one foot on a wooden pillar, the other in the air, for hours at a time to the confrontations that send fist and feet flying.

Time Out

9/7/2011 by Keith Uhlich

Fists fly furiously and much blood is spilled; there's a sacrifice via sword that's both cringe-inducing and cheerworthy.

Village Voice

9/6/2011 by Nick Pinkerton

This crude, overlong chunk of kung-fu kitsch lays its scene in a 1920s Republican China, torn by internecine fighting and weighed down by drably expensive production design.

Hollywood Reporter

7/14/2011 by Maggie Lee

A well-mounted but soft-edged reinterpretation of a martial arts classic that gives precedence to drama over action.

Variety

2/3/2011 by Russell Edwards

Well-mounted Chinese-Hong Kong martial-arts co-production Shaolin elevates enlightenment above brute strength, but weak helming undercuts the pic's punch.

Movie Metropolis

12/29/2011 by James Plath

One of those films that impresses you, even though it fails to set itself apart from other films in the genre.

Shockya.com

10/2/2011 by Brent Simon

Ambitiously staged set pieces fall victim to portentous technique, creating an ultimately irreconcilable chasm between how much one wants to like this movie and how much they actually do.

Common Sense Media

9/16/2011 by Jeffrey M. Anderson

Jackie Chan brings some warm energy to his supporting role -- a rarity for this big star -- and turns in a delightfully self-effacing performance.

Boxoffice Magazine

9/9/2011 by Nick Schager

Frequently gripping and featuring a surprisingly spry supporting turn by Jackie Chan, it's a sturdy if unremarkable effort.

Boxoffice Magazine

9/9/2011 by Paul Clinton (Boxoffice)

Shaolin is simultaneously regal and stilted, stirring and sluggish.

Film Journal International

9/9/2011 by Daniel Eagan

Large-scale melodrama is short on action and long on histrionics.

Austin Chronicle

9/9/2011 by Marc Savlov

This rousing Shaolin is notable for the compassionate Buddhist philosophy that underpins what otherwise might have been just another Hong Kong period piece.

Honolulu Star-Advertiser

9/8/2011 by Burl Burlingame

This is not a subtle film, and certainly not a great one, but it's made with bubbling brio and it's spectacular to look at. It's action filmmaking of the highest order.

Slant Magazine

9/4/2011 by Andrew Schenker

Benny Chan's kung-fu film Shaolin both benefits from and is ultimately defeated by its own epic ambitions.