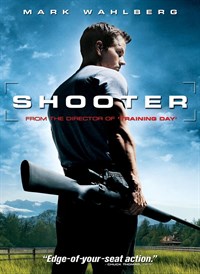 Tomatometer®
Audience
80 %
456,380 user reviews
Time Out

4/12/2007 by Ben Walters

The film's weird, thin politics become harder to swallow as it lurches from set-up to set-up.

New York Magazine/Vulture

3/26/2007 by David Edelstein

This is the first big-studio action picture (the director is Antoine Fuqua) with some of the disgusted, bloody nihilism of the post-Vietnam era.

New Yorker

3/26/2007 by David Denby

The engaging, fast-talking idiosyncrasy of [Wahlberg's] performance in The Departed has vanished.

Ebert & Roeper

3/26/2007 by Richard Roeper

It's one of those conspiracy thrillers that keeps on asking you to take a leap of faith, until you get tired of leaping and you just start laughing in all the wrong places.

Time Out

3/24/2007 by David Fear

Ballistic fetishists and anticorporate activists will find common ground in each violent act against political fat cats, but the rest of us are left to wallow in the bloodlust and wonder who switched the reels.

AV Club

3/23/2007 by Scott Tobias

As the body count increases, the kills become so gratuitous that the effect is numbing, like watching a line of metal ducks get pinged at the state fair.

TIME Magazine

3/23/2007 by Richard Corliss

Shooter is an honorable rather than exceptional addition to the canon.

USA Today

3/23/2007 by Claudia Puig

Despite gripping chase sequences and a few awe-inspiring fiery explosions, gaping holes in the convoluted plot make Shooter heavier on style than substance.

Toronto Star

3/23/2007 by Peter Howell

It may not qualify as a masterpiece, yet is a masterful thriller nonetheless.

Slate

3/23/2007 by Dana Stevens

Though much of the action in Shooter is beautifully photographed, the movie's force is as a blunt instrument of metaphor.

Seattle Times

3/23/2007 by Moira MacDonald

[A] competent if uninspired action thriller.

San Jose Mercury News

3/23/2007 by Bruce Newman

Shooter won't win any Oscars, but it has blood and brains, and even some heart. They're splattered all over the screen.

San Francisco Chronicle

3/23/2007 by Peter Hartlaub

The crushing two-hour-plus running time and Tom Clancy-for-dummies plot sabotage the film, which becomes particularly ridiculous in the last 30 minutes.

Rolling Stone

3/23/2007 by Peter Travers

Suspended over a deep gully of disbelief, where logic takes more bullets than the bad guys, Shooter still makes the grade as hard-ass action escapism.

Philadelphia Inquirer

3/23/2007 by Steven Rea

A chase movie and a pretty crafty thriller, Shooter owes a lot to Sydney Pollack's Three Days of the Condor.

Orlando Sentinel

3/23/2007 by Roger Moore

It features a gritty, macho performance by Mark Wahlberg, stinging political commentary and more 'Here's how you do that' moments than the complete MacGuyver collection on DVD.

Newsday

3/23/2007 by Gene Seymour

Shooter eventually gets in its own way by hitting things too hard, too loud and too long.

Newark Star-Ledger

3/23/2007 by Stephen Whitty

It's best to turn your brain off, half an hour in.

New York Post

3/23/2007 by Kyle Smith

Though the movie has some mild pretensions to rank with great paranoia films like Three Days of the Condor, mostly it's content to deliver Salisbury steak-and-mashed-potatoes action.