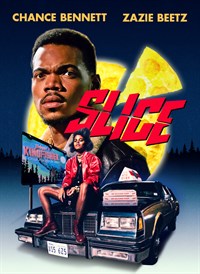 Tomatometer®
Audience
Chicago Sun-Times

9/12/2018 by Richard Roeper

The insanely zany storyline and the energetic performances, and yes, Chance eventually transforming into a werewolf - all of it kept me entertained throughout, and bless this movie's black little heart for that.

AV Club

9/12/2018 by Katie Rife

With so many elements in play, the effect is like putting a dozen toppings onto a pizza.

RogerEbert.com

9/11/2018 by Nick Allen

While Bennett might bring in viewers, this is a charismatic, however cluttered proclamation of another exciting film presence, his 'Angels' and 'Sunday Candy' music video director, Austin Vesely.

1428 Elm

10/12/2018 by Alan French

Slice will not be the best horror film of the year, but audiences are likely to embrace it...the actors and actresses involved really elevate the material here.

Patheos

10/10/2018 by Eve Tushnet

The kind of low-impact, time-stamped pleasure you hit up on a streaming service when you've had a long day and want to curl up with a cup of cocoa and watch some people get slaughtered.

Film Inquiry

10/10/2018 by Josh Martin

Eventually, it's all too apparent that nothing here really works. Even at 82-minutes, much of the film feels like wheel-spinning.

Washington City Paper

10/10/2018 by Matt Cohen

It's a bit disappointing that director Austin Vesely's highly anticipated horror-comedy isn't a better film than it is...halfway through, the film gets bogged down with a needlessly complex plot, which requires viewers to think more than they should...

Punch Drunk Critics

9/25/2018 by Travis Hopson

The impressionSliceleaves is of a sincere but overstuffed curiosity that will be an interesting footnote in Chance's career.

LarsenOnFilm

9/20/2018 by Josh Larsen

...at the very least it entertains as a curiosity.

Pajiba

9/19/2018 by Tori Preston

[Chance] is so effortlessly charming it's astounding. I mean, I'm not saying he's a great actor... But there's no denying that he basically is just a fountain of charisma.

Newcity

9/16/2018 by Ray Pride

Brash color, bold compositions, and outrageous bursts of horror pop.

Blu-ray.com

9/14/2018 by Brian Orndorf

I'm sure it was a fine screenplay at one point, but in its finished form, the picture is a jumble of ideas that never gels.

GQ

9/13/2018 by Joshua Rivera

Watch it late at night, with the kind of people who'd have a good time at a "bad movie night." Because Slice is exactly that -- stylish kitsch, the kind of thermonuclear cheese that's absolutely delightful to watch even if it doesn't make a lick of sense.

Slashfilm

9/13/2018 by Steven Prokopy

With works that dabble in horror, it's easy to forgive bad jokes or weak writing if the gore factor is high. But no such luck here.

The Playlist

9/13/2018 by Charles Barfield

Though equipped with a ton of bravado and ambition, Austin Vesely falls short of crafting a great horror comedy, B-movie classic and Slice just doesn't make the cut.

Birth.Movies.Death.

9/12/2018 by Jacob Knight

Chance the Rapper's screen debut is genuinely weird...and pretty hilarious for a horror movie.

Consequence of Sound

9/11/2018 by Randall Colburn

It might be sloppy, but you'll be damned if it don't still taste good.
Showing 1-10 out of 3 reviews
Review title of deandaddy84

Meh

It was somthing to watch, i guess.....Felt like a tv show....

2 out of 2 people found this helpful.
Review title of AGU SUPERMAN

MEH

Well........ that was interesting..... I can't say anything bad, but I don't have anything good to say either.

1 out of 2 people found this helpful.
Review title of tubes vol2

awful

its like they gave up on writing a plot after they got a cast together...awful

2 out of 6 people found this helpful.