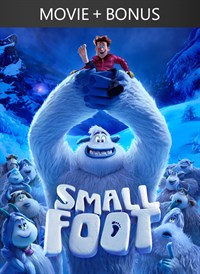 Available on
Xbox One
HoloLens
PC
Mobile device
Xbox 360
Description
An animated adventure for all ages, with original music and an all-star cast, "Smallfoot" turns the Bigfoot legend upside down when a bright young Yeti (Channing Tatum) finds something he thought didn't exist—a human. News of this "smallfoot" (James Corden) brings him fame and a chance with the girl of his dreams. It also throws the simple Yeti community into an uproar over what else might be out there in the big world beyond their snowy village, in a rollicking story about friendship, courage and the joy of discovery.
Bonus content
Yeti or Not, Here They Come! Imagining Smallfoot
Migo in The Secret of the Yeti Stones
"Super Soozie" Mini Movie
Promotional Material: Turn Off Your Cellphone
Music Videos: Nial Horran "Finally Free"
Music Videos: Cyn "Moment of Truth"
Music Videos: Wonderful Life: In 28 Languages, Sung Around the World
Promotional Material: Artifact #31: The Smallfoot Cocoon
Promotional Material: Artifact #17: The Scroll of Wisdom
Promotional Material: Artifact #54: The Singing Stone
Promotional Material: Migonada
Yeti Set Go! Sing-Along Intro
Additional information
Directors
Karey Kirkpatrick
Jason Reisig
Writers
Karey Kirkpatrick
Clare Sera
John Requa
Glenn Ficarra
Sergio Pablos
Size
5.27 GB (1080p HD)
2.86 GB (720p HD)
1.63 GB (SD)