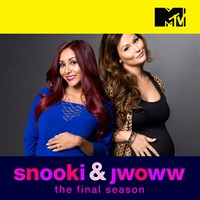 Available on
Xbox One
HoloLens
PC
Mobile device
Xbox 360
Description
"Snooki & JWOWW" follows the real-life besties as they move in together to take on their next big adventure: Adulthood! As they soon discover, with your best friend by your side, there's nothing you can't face.
Episodes
1. We're Back – And We're Pregnant!
2. That's Not Very Namaste Of You
4. Welcome home, Meilani!
6. I Feel Like A Pregnant Virgin
7. Little Hos On The Prairie
8. Summer's Over...Back To The Basement
9. It's Like A Rollercoaster Of Pain
10. Welcome Home, Giovanna
11. It's My Bachelorette Party...I'm Single And Ready To Mingle!
Additional information
Duration
12 episodes (8 h 34 min)